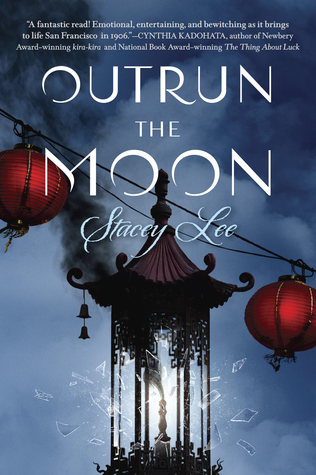 Author: Stacey Lee
Publisher: G.P. Putnam's Sons Books for Young Readers
Series: N/A
Genre: Contemporary, Historical Fiction
Pages: 400
Release Date: May 24, 2016
Goodreads • Amazon
San Francisco, 1906: Fifteen-year-old Mercy Wong is determined to break from the poverty in Chinatown, and an education at St. Clare's School for Girls is her best hope. Although St. Clare's is off-limits to all but the wealthiest white girls, Mercy gains admittance through a mix of cunning and a little bribery, only to discover that getting in was the easiest part. Not to be undone by a bunch of spoiled heiresses, Mercy stands strong—until disaster strikes.
On April 18, a historic earthquake rocks San Francisco, destroying Mercy's home and school. With martial law in effect, she is forced to wait with her classmates for their families in a temporary park encampment. Though fires might rage, and the city may be in shambles, Mercy can't sit by while they wait for the army to bring help—she still has the "bossy" cheeks that mark her as someone who gets things done. But what can one teenage girl do to heal so many suffering in her broken city?
heya peeps! it's me. (of course.)
so, the last time i was here, i did an interview with the ever-wonderful erin l. schnieder. now, i'm here with the amazing stacey lee, writer of beautiful stories with vivid characters.
(also, i WILL have a proper post up. soon. someday. next week. soooon.)
What was the strangest thing you had to research for this book?
Whether there were koala bears in the Golden Gate Park in 1906. There apparently were koala bears at some point (as well as bison, zebra, and peacocks), but they don't make it into the story
What made you pick the title for it? You come up with really pretty titles, so I'm curious on how you pick them!
For this one, I read a lot of poetry! I read Coleridge, Blake, Shakespeare, London. London got me thinking about the sky, and the idea that while the earth shakes, the sky remains still. The title eventually followed!

Do you listen to music when you write?
No. I find it too distracting because I'll want to listen to the words. Occasionally, I'll turn on classical.

Last line you wrote?
(This line isn't from OTM, is that okay?)
Girls hung out the windows, and sour mash blew in your face every time the door opened.
What job would you have, if you had never wanted to be an author?
Ooh, I would love to work with sea otters. or on some wildlife refuge.
How does any of your past experiences shape the story of your novels?
I think authors can't help having their books reflect some aspect of their experience. For me, the theme of family influence on choices seems to come up a lot!
Most helpful thing you've learned about the publishing industry?
Just because a publisher puts major dollars behind a book does not mean a book is good, add vice versa. Marketing dollars spent is not a reflection of quality.

Favourite quote (of all time)?
Oscar Wilde said, 'Some cause happiness wherever they go, others whenever they go.' Strive to be the former.

Team Iron Man… or Team Cap?
I'm behind on my pop culture, one of the many things I miss now that I maintain a full time writing schedule. One day, I aim to catch up.
---
ABOUT THE AUTHOR
Stacey Lee is a fourth generation Californian with roots in San Francisco Chinatown. Born in Southern California, she graduated from UCLA then got her law degree at UC Davis King Hall. She has lots of experience with earthquakes, having skinned her knees more times than she wants to remember diving under tables. One day she hopes to own a hypoallergenic horse and live by the sea. See what she's up to on Twitter & Instagram: @staceyleeauthor.
---
Let me just say one thing, before y'all trample me to get to the three (!!!) glorious giveaways?
Her covers.
Are gorgeous.
---