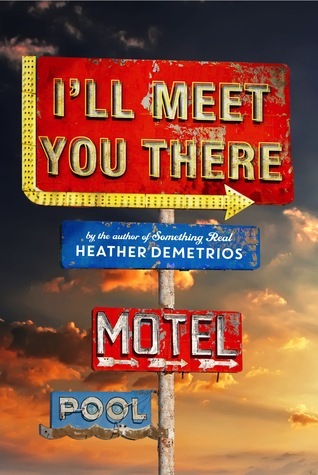 Author: Heather Demetrios
Publisher: Henry Holt and Co. (BYR)
Series: N/A
Pages: 388
Format: Hardcover
Release Date: February 3, 2015
Genre: Contemporary, Romance
Goodreads • Amazon • The Book Depository
If seventeen-year-old Skylar Evans were a typical Creek View girl, her future would involve a double-wide trailer, a baby on her hip, and the graveyard shift at Taco Bell. But after graduation, the only thing standing between straightedge Skylar and art school are three minimum-wage months of summer. Skylar can taste the freedom—that is, until her mother loses her job and everything starts coming apart. Torn between her dreams and the people she loves, Skylar realizes everything she's ever worked for is on the line.
Nineteen-year-old Josh Mitchell had a different ticket out of Creek View: the Marines. But after his leg is blown off in Afghanistan, he returns home, a shell of the cocksure boy he used to be. What brings Skylar and Josh together is working at the Paradise—a quirky motel off California's dusty Highway 99. Despite their differences, their shared isolation turns into an unexpected friendship and soon, something deeper.
And maybe some people are like collages – no matter how broken or useless we felt, we were an essential part of the whole. We mattered.
I'll Meet You There was recommended to me by a friend, and I was wary, because I have a nice knack of disliking a book while everyone else liked it. I didn't doubt the book was great – I just wasn't sure it was for-me-great.
Oh, how I'm sorry about that doubt. You haven't steered me wrong yet, Tika!
I enjoyed this book so so so so so much. There's so many different, complex issues put into here and Demetrios handles them all so beautifully.
There are so many things that makes this book different from all the YA contemporaries out there. For one, the drama is not superficial. It's not based on cheap miscommunication that could have been resolved three chapters into the story. It's not because of "some girl" or "some boy" or any old flames coming to haunt them. The drama is about the characters and about scars that never heal.
Josh Mitchell has returned from war, and war changes you. You don't go back to your old self, flirting with every girl you catch a whiff of. You don't because you can't. War is brutal. There are so many things you want to unsee, that you wish you never saw but you can't and so you're stuck with it and you just have to deal with it it because what else are you going to do?
Skylar Evans has two choices: take care of her deadbeat mom in a rundown town that she hates or abandon her to her succumbing funds and live a happy life in Frisco. Sure, there are you saints out there who would pick their mom in a heartbeat, but for Skylar, it's not that easy. She hates the town. She needs something more. Something bigger. Something better. And she doesn't know which side to take – the one where her family bonds keep her in Creek View, or the side of her that knows she deserves something better.
This book is just too… augh. Too good, I tell you.
And let me just say that I am beyond happy that there is a platonic relationship between Skylar and Chris. Yessiree folks, you read that right. A platonic relationship… between a boy and a girl! Gasp!
This book is very character driven, so you won't expect much in terms of events. But the character aspect is done very, very well. The voices are spectacular and you can see the struggles they have to deal with as everyone's just living their life and everything for them is so normal and they're just there on the outside because they just have too much weighing them down. You get flashbacks of war and suddenly you feel like your their again with blood on your hands as you see your friends die one by one, or you have your mom to deal with who you know you should just leave behind but you can't. You just can't.
I am forever thankful I got to read this book, and reading the acknowledgements, I can see Heather did extensive research for this book. Pick it up. Please.
Have you read the book? What did you think of it? What would you do if you were in Skylar's position?