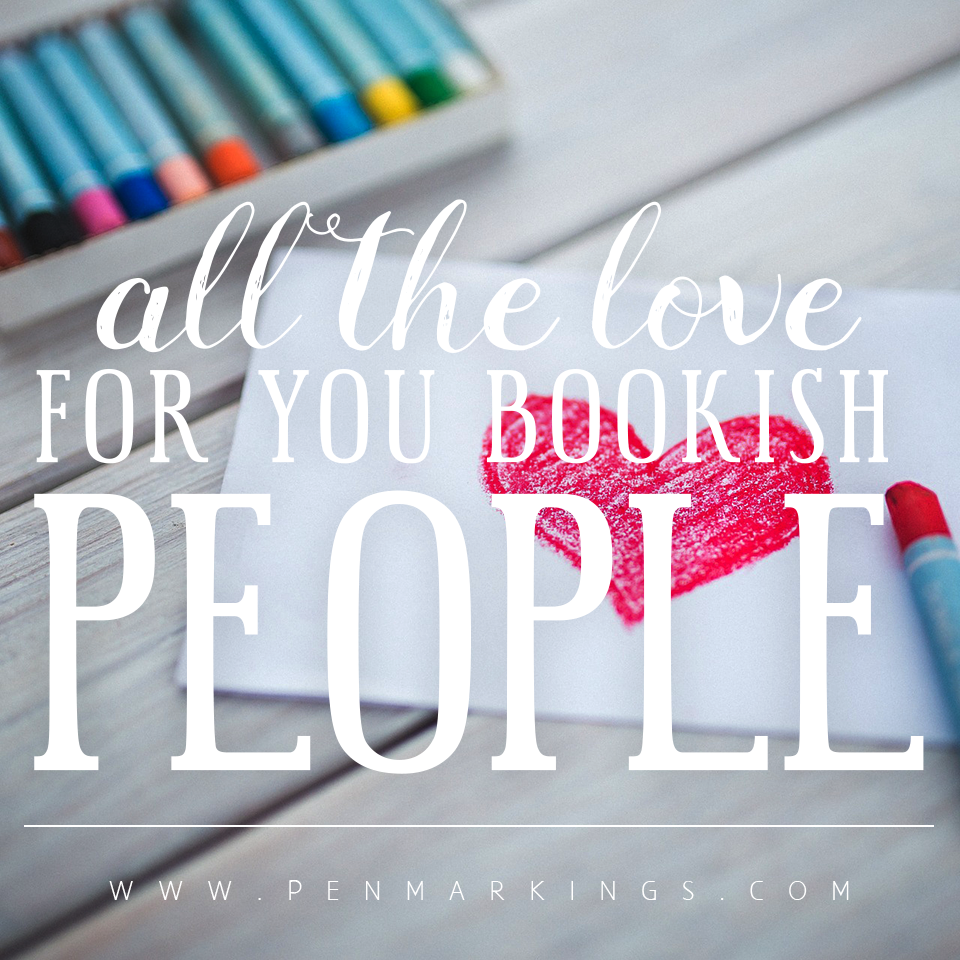 Hey! It's Valentine's day.
So HAPPY VALENTINE'S DAY!
I know this is more of a romantic day – couples, cupids, pointy arrows aimed viciously at peoples backs…
Love is in the air, right?
Well, I don't have any significant other. And I won't for a very long time, I'm guessing. More from the complete lack of interest than anything else, I'm sure.
But I have some significant people that I just want to share some love with. Because Valentine's day is about love, yeah? Not just romantic, but platonic. And we need more of that.
bookish people that exist excellently
Gabi & Deanna at Reading in the Rain, two top-rated fangirls that I love incredibly so
Maha at Younicorn Reads, who's an ever-giving and ever-loving sweetheart that I surely don't deserve in life.
Izel at A Bookish Flower, one of the nicest humans who exist on the world today, and one of the sweetest people to read my blog
Sophie at Sailing Through Books, a fellow Canadian (AYYEEE) who's got some serious cheerleading skills and someone I love so dearly
Zoe at Stories on Stage for her sweet and incredibly thoughtful comments that always reminds me that some is there to read what I write.
Alexandra at Literary Legionnaire, a soul who's too lovely to put into proper words so
Mishma at Chasing Faerytales, a person whom I admire for her tireless advocacy for diversity
Alyssa at The Devil Orders Takeout, a girl with a fantastic blog that I continuously hound for all the fantastic posts about Chinese culture
Jessica at Bookish Serendipity who's bookish entrepreneur-ness has me constantly admiring what she does and her excellent work ethnic.
Nova at Out of Time, someone who I admire greatly for her firm beliefs and courage to stand her ground on her opinions
Lillie at Little Lillie Reads who's bubbly personality just makes me so happy even when I'm not feeling it
Faith at Faiths Bookspiration who's kind and sweet and nice and incredibly great and did I say kind?
Alex at Fiery Reads, someone sweet and kind and who's discussion posts are on point.
Cait at Paper Fury, because what list is complete without your favourite (and hilarious) overlord?
Cat at Let the Pages Reign who inspired me to do this post in the first place by being such a lovely human
Claire at Cover To Cover who's bookstagram is something beautiful and a personality that's something great
Nori at ReadWriteLove28 who is the nicest and most creative poodle I've ever met
Aila at One Way or an Author for her epic Blondie reference and amazing designs
…and everybody who's taken the time to pause and read my blog, because whoever you are, wherever you are, are amazing and deserve nothing short of the world.
writerly authors who give me life
Susan Dennard, author of Truthwitch and Something Strange & Deadly for making my heart hurt incredibly so, and being one of the sweetest authors I've had the privilege to know
Heidi Heilig, author of The Girl From Everywhere who's book not only makes me get all the feelings but who's personality is a diamond among gems
Maggie Stiefvater, author of The Wolves of Mercy Falls, Books of Faerie, and The Raven Cycle because I don't remember a time where my heart wasn't hurting over Richard Gansey
Rick Riordan, author of Percy Jackson, Heroes of Olympus, The Kane Chronicles, Magnus Chase, and The Trials of Apollo for introducing me into this world of stories in the first place
… and every author of every book I've ever read, because each book has shaped my life and thoughts in some way
characters that i love too much, damn it
Celaena Sardothien/Aelin Galathynius for having incredibly hard-to-spell names and being a total badass
Manon Blackbeak for being something wicked and deadly and so so so bloody
Will Herondale for becoming my first and greatest bookish love
Percy Jackson for being such a sassy little thing and being an amazing boyfriend to Annabeth
Annabeth Chase who's everything I want to be, and more
Leo Valdez because ALL THE GIRLS LOVE LEO
Dorian Havilliard because HE IS MY BABY.
Inej Ghafa for being a deadly force that can kill me over and over again
Kaz Brekker because how can you NOT?
Nina Zenik for having her magnificent taste in food, which is to say she love CAKE so I love HER
Kady Grant because her hacker skills are on-point and I wish I could absorb them or something
Zuzana Nováková because she's so short and fiery she's way too much like me
---
Whew.
What a long list.
BUT it was well worth it.
let's share some bookish love! tweet out to your faves and let them know! valentine's day isn't just about romance – love is love, whatever it is.